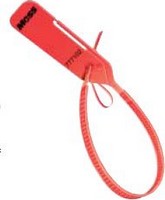 Moss Grips
Polypropylene
Teeth on both sides prevent incorrect insertion. Recessed teeth offer smoother application. Supplied with side tear-off and tag holder. Stocked with unique serial number.
Narudžbenica broj
Tie Size (mm)
Color
Količina u pakovanju
cijena/pakovanje/kom
Cijena za kom
dužina
širina
debljina
SECURE-1201
200
5,5
2,2
Green
1000 kom
2 HRK
3,3 HRK
SECURE-1202
250
5,5
2,2
Yellow
1000 kom
2,1 HRK
3,5 HRK
SECURE-1203
300
5,5
2,2
Red
1000 kom
2,4 HRK
4 HRK

Prices are without VAT. If specified order number, please, it will add it to the selected type of goods. We will be glad to send you any quantity.