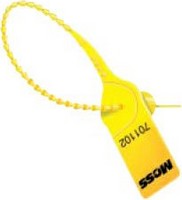 Lock Pulls
Polypropylene
Extra security provided by acetal locking mechanism. Bag grip spikes provide extra security when sealing bags. Supplied with tear-off feature. Stocked with unique serial number.
Narudžbenica broj
Tie Size (mm)
Color
Količina u pakovanju
cijena/pakovanje/kom
Cijena za kom
dužina
promjer [mm]
SECURE-1301
250
3,7
Yellow
1000 kom
3,8 HRK
6,2 HRK
SECURE-1302
300
3,7
Red
1000 kom
3,9 HRK
6,4 HRK
SECURE-1303
350
3,7
Blue
1000 kom
4,3 HRK
7 HRK

Cijene su bez PDV-a i vrijede prilikom plaćanja pouzećem.