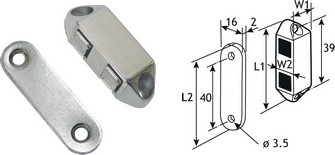 Metal Magnetic Catch
Nickel Plated Die-Cast Zinc Alloy
Magnetic catch comes with couterplate. Can withstand a force of 4 kg. Temperature resistance of 80°C.


Narudžbenica broj
parametri (mm)
Količina u pakovanju
cijena/pakovanje/kom
Cijena za kom
L1
W1
L2
W2
491981
49
16
56
16
100 kom
101 HRK
157 HRK

Prices are without VAT. If specified order number, please, it will add it to the selected type of goods. We will be glad to send you any quantity.